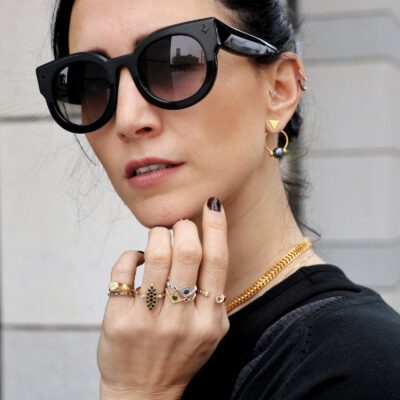 האהבה הגדולה לתכשיטים ויצירה התחילה בבית הורי בבאר שבע, עם סיפורים רומנטיים על אבי שהכין לאמי תכשיטים בעבודת יד בתקופת החיזור שלהם. דרכי המקצועית החלה בלימודי תואר באמנות הקולנוע והשתתפות במספר פרוייקטים גדולים בתעשיית הקולנוע בארץ, במקביל התחלתי לחקור את אומנות הצורפות ועיצוב התכשיטים ולמדתי אצל כמה מהמורים הטובים בישראל.
בשנת 2009 ייסדתי את המותג הנושא את שמי עם שותפי לחיים, לימים בעלי, שי. בשנת 2011 סיימתי בהצטיינות התמחות בלימודי גמולוגיה (תורת אבני החן) ויהלומנות. היום, העיצובים שלי מושפעים רבות מהסטיילינג שהיה נהוג בחצי הראשון של המאה ה-20 ומוצג בסרטים מהתקופה שאני אוהבת, לצד אופנה בין לאומית מודרנית ועכשווית. את הקולקצייה תוכלו לראות ולהרגיש גם בחנות הבוטיק המשודרגת ברחוב אחד העם 39, בתל אביב .
תכשיטים קיימים מראשית ההיסטוריה האנושית, הם נצחיים ומספרים סיפור על התקופה בה נוצרו והטבע של האנשים שענדו אותם. הקסם הקטן שמתרחש בין אישה לתכשיט אותו היא עונדת מסקרן ומשמח אותי כל פעם מחדש. תחת תפיסה זו יצרתי קולקצייה ייחודית של תכשיטי זהב משובצים באבני חן ויהלומים לצד קולקציית תכשיטי אופנה ואקססוריז עשירה.
אני חותרת לייצר תכשיטים קלאסיים, אלגנטיים ואציליים שיתאימו לכל אישה, בכל גיל, בכל מקום בעולם.
מאחלת לכם בילוי מהנה בחנות הבוטיק האינטרנטית שלי.
שלכן תמיד,
מירב.
Passion for fashion inspired from old movies & encouraged by dear family
My dear customers & new visitors, welcome!
My special affection for jewelry started in my parents' house with stories about my romantic father making self-made jewelry to my mother. My professional path started in the art of movie making, which I've got my BFA in, while participating in several projects in the movie production industry I started exploring the jewelry art making by studying from some of the best goldsmiths in Israel.
In 2009 I've established my own brand that carries my name with my partner, now my husband, Shay. In 2011 I've graduated with honors internship in gemology and diamonds.
Today, my designs are naturally inspired from the styling that was common in the first half of the 20th century as it is often shown in the movies of that time that I love alongside with modern international updated fashion trends.
Jewelry exist from the beginning of history, they are endless & they tell us a story about the time they were made and the nature of those who wore them. That magic that happens between a women & the piece of jewelry she's wearing intrigues me & make me happy every single time. Every woman has the jewelries color & shape that suit her best & help her emphasize her grace & lighten up her face. Under this perception I've created a very unique collection of jewelry made of gold and precious stones as well as fashion jewelry and accessories.
I strive to make classic, elegant, noble jewelry that would fit any women, at any age, anywhere in the world. Enjoy your time here at my new international online boutique shop.
Yours truly
Meyrav.