Contact Information
We love to hear from you about our customer service, merchandise, website or any topics you want to share with us. Your comments and suggestions will be appreciated. Please complete the contact form on this page.
6 Rav Aluf David Elazar , Sarona, Tel Aviv, Israel
+97236422764 +972526052223
During COVID-19 Restrictions The Store is Closed
Online Orders May Suffer Delays
Join Our Customers Club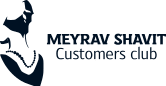 Special discounts, Reminders and Gifts.
Upcoming Events